Whether you are a Francophone, a Francophile, a language student or a parent wanting to share your French heritage with your children, membership in the Alliance Française is for you.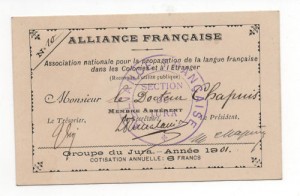 There are three simple ways to join the AF de Sarasota:
Join over the phone with a credit card, just call us at 941 955 0700.
Print out an online Individual-Family or Corporate Membership
Form and follow the directions on the form to mail, or deliver it to us.
More information
by phone 941 955 0700
by email alliancefrancaise@verizon.net
Support the Alliance Française de Sarasota and become a member today
Reduced class tuition
Early registration privileges to events, including well-known French and Francophone artists.
Invitations and French-themed social and cultural events such as wine-tastings, dinners, book readings and more.
Free participation in many conversation activities.
Free or reduced admission to Alliance social and cultural events.
E-news updates on the French and Francophone events at the Alliance and in Sarasota.
Receive invitation to the Annual Members' Meeting.
Timely updates on our extensive, quality language classes.
Free access and borrowing privileges from the Alliance's extensive bibliothèque of French books.
Belonging to a great group of Francophiles!